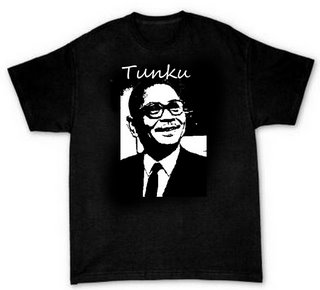 Tunku t-shirt for sale! I'm now awaiting payment from the first buyer :p
Here's the link from
Ebay
, for more details.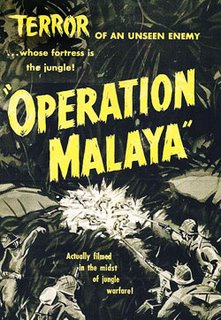 On another note, in conjunction with our 51st Merdeka Day, The Annexe Gallery, Central Market, will be having a whole lot of activites from exhibition, lectures, film screenings and etc from 29 - 31 August 2008. Free admission.
One event that I'm looking forward to is the film "Malaya" (poster above) on Saturday 2.30pm & 6.30pm. Below is the synopsis from the mail I received.
Malaya (1949): aka Operation Malaya, during WWII, the CIA sent Spencer Tracy (Priscilla Queen of the Desert) and James Stewart (Hitchcock's favourite actor) to Malaya to steal rubber from under the Japanese's noses... [95mins]
Happy Merdeka & Happy Ramadhan!