Tan Sri A. Samad Ismail Dies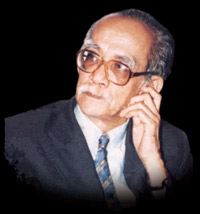 KUALA LUMPUR, Sept 4 (Bernama) -- National journalism laureate and freedom fighter Tan Sri A. Samad Ismail died Thursday at the Pantai Medical Centre here at 5.58pm because of lung infection.
Singapore-born Samad, 84, better known as Pak Samad, was warded at the hospital since Aug 24 after experiencing difficulty in breathing.
He leaves behind wife Puan Sri Habibah Hamid and 10 children including bloggers and ex-journalists Nuraina and Maria.
His first wife, Hamidah Hassan died on June 2, 1990.
His remains were brought the family home at 2, Lorong 16/7C, Petaling Jaya and would be buried after Friday prayers tomorrow, Azmi Ansar, a son-in-law, told Bernama.
Inna lillahi wa inna ilayhi raji'un (انّا للہ و انّا الیہ راجعون)