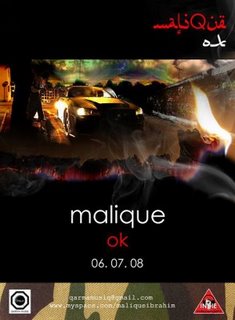 image source -
qarma musiq
I'm not really a big fan of Malique or Too Phat, but I do admire their creativity.
Malique
's new compelling poetic song, 'Layu' is definitely one of a kind. This is very much a step away from Too Phat's early hip hop days of featuring
lagu rakyat
like 'Anak Ayam' and 'Ala Canggung'.
It also features Tun Dr. Mahathir's favourite poem, 'Perjuangan Yang Belum Selesai' and the classic Malay song, 'Warisan' (scroll down for lyrics) playing on the background. A song which is sadly unbelievable that a respected academician and Malaysia-Today columnist, Dr. Azly Rahman could call it a 'dangerous propaganda song' and based on 'racist intents' in his article, 'A Malay view of 'Ketuanan Melayu'. Anyways, this blog entry is about Malique's 'Layu', not about 'Warisan'.
Here's an excerpt of the album review by 8TV CEO, Ahmad Izham Omar, taken from Malique's
Myspace
.
"..The fact that this progressive approach to rap and rhyme has been done mostly in the Malay language is a landmark event in itself. I dare say that this album deserves to be studied, not just by hip-hop fans, not just by music fans, but by Dewan Bahasa Dan Pustaka itself.

Language, at its core, is an expression of the human form. And this studied evolution of the Malay language in the rap art form is actually a study in an exciting evolution of Malay poetry. Disguised as catchy radio-friendly hip-hop music.

Malique has gone where no Malay album has ever gone before. And with him as our guide, our journey can be nothing short of pure fun." - Ahmad Izham Omar
Malique - Layu
Intro
Sesungguhnya tidak ada yang lebih menyayat
dari melihat bangsaku dijajah
tidak ada yang lebih menyedihkan
dari melihat bangsaku dihina
(Tun Dr. Mahathir)
Aku lihat layu dalam Melayu
Aku pasti bukan aku seorang sahaja yang nampak
Ada juga bercadang bertanya tuan punya
Tapi bercampur risau dengan tak tergamak
Nanti di kata tak bersyukur
Di kata tak sedar diri
Jadi aku menyendiri memerhati
Dan akhirnya mengakui
Yang kita sendiri membiarkan bunga raya layu ke kanan
Dan dibiar bunga tak cantik mekar di kiri
Aku lihat layu dalam Melayu
Tanah air kita yang punya kita siram kita baja
Tapi angin api kita lupa
Mereka merancang masa menjilat bangsa
13 Harimau bertukar menjadi mangsa
Kita lupa nenek moyang kaya raya
Jangan sekali- kali di gadai harta bendanya
Ku lihat layu dalam Melayu
Ku lihat layu dalam Melayu
Ku lihat layu dalam Melayu
Takkan Melayu hilang di dunia
Ya.Tapi apa guna tak hilang di dunia
Kalau kewujudan tidak dirasa
Petah berbahasa kudrat tak berjasa
Orang berbudi kita hanya tahu merasa
Selalu lari bila di rapat
Selalu malu bila soalan di aju
Selalu segan memberi pendapat
Rela mengikut dari meneraju
Belum nyanyi sudah bersorak
Suka berjanji dalam borak
Bukan kata tak ada otak
Cuma tak berfikir di luar kotak
Ku lihat layu dalam melayu
Ku lihat layu dalam melayu
Ku lihat layu dalam melayu
Aku jadi sayu
Bunga menangis dia mendayu
Mahu jadi cantik tapi ragu
Aku merayu
Bangunlah semula hidup kembali
Jangan tunggu matahari mati
Cepatlah mekar sebelum terlerai
Perjuangan kita belum selesai
Perjuangan kita belum selesai
Perjuangan kita belum selesai
Perjuangan kita belum selesai
kerana hanya yang cekal dan tabah
dapat membina mercu tanda bangsanya yang berjaya
(Tun Dr. Mahathir)
Background music (Warisan)
Anak kecil main api
Terbakar hatinya yang sepi
Airmata darah bercampur keringat
Bumi dipijak milik orang
Nenek moyang kaya raya
Tergadai seluruh harta benda
Akibat sengketa sesama kita
Cita lenyap di arus zaman
repeat
Malique - Layu mp3 download