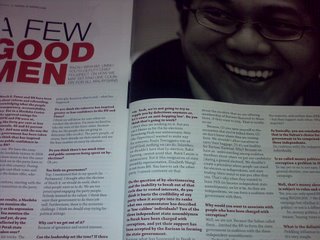 My favorite magazine, Off the Edge, featured an interview with Muar MP and newly elected UMNO Youth deputy, Razali Ibrahim in their latest issue. I agree with the heading on the mag. Dato' Razali, is indeed one of the few good men in Pemuda, or UMNO in general. I also believe he is one of the future leaders to watch. I hope that Najib will include him in his new cabinet. It doesn't matter if previosly no Naib Ketua Pemuda was appointed to cabinet. What is more important is getting clean and capable leaders. Najib should break away from old traditions if he's really interested in reforms.
Old leaders of the Syed Hamid Albar generation should be left out. It's just sad to know that Shahrir Samad has resigned. I believe in the eyes of the public, Shahrir is no doubt one of the best minister in Pak Lah's cabinet.
UMNO, at this point of time, is in dire need of clean, intelligent, capable, moderate and incorruptible leaders. Corrupt leaders like Khir Toyo, though he has ideas and writes well, should be kicked out too. BN will not be able to wrest Selangor back from Pakatan Rakyat if Khir Toyo is leading the BN campaign. We need more capable leaders like Razali Ibrahim in UMNO.
Secondly, what is needed is for the new breed of moderate leaders to come out and be more vocal on national issues or any important issues that affects the rakyat. UMNO cannot afford to allow extremist leaders to have more say in the party.
We've had enough of dwelling too much into petty political issues whereas the focus, time and attention should be on governance, rebuilding the economy and gaining trust of the public. The time is running out, everybody is watching, and the party cannot afford to make any mistake or risk facing a greater political Tsunami in the 13th GE.
On the other hand, looking at the reports and current ground analysis of the three by-elections, I believe BN has a winnable chance in winning at least two of the three seats, if not all. Hope that the support shown will be translated into solid votes!
Note: I'm not referring to analysis made by the mainstream media, Utusan Malaysia especially, as they have not known to be very useful, but merely syok sendiri. Lol.