Financial liberalisation or economic imperialism?
The Star: Government goes easy on financial sector
PUTRAJAYA: The Government will issue up to nine new banking and insurance licences until 2011 and allow foreigners to own up to 70% equity in the country's Islamic banks, investment banks and insurance companies.

Prime Minister Datuk Seri Najib Tun Razak said the liberalisation package, comprising six thrusts, was aimed at enhancing Malaysia's linkages with international economies.

I read this news with mixed feelings and many questions. I am not an expert in this field so my comments will only be based on my limited understanding of the subject.
Although I tend to be an optimist, but reading the announcement by Prime Minister cum Finance Minister Najib Tun Razak, I can't help but ask; is it financial liberalisation or an economic imperialism in the offing? Yes, we are facing the worst economic recession in history. Yes, we need more Foreign Direct Investments (FDI). But I have strong doubt about allowing foreigners to own majority stakes in important sectors of the economy. Does this mean they'll soon be given license to own our local banks? Is this a sign of our weaknesses? Does the great nations of the Western world that gave birth to many liberal economic philosophies have decided to open up and liberalise their industries and other key sectors of their economy?
Will Najib liberalise other sectors too? To take an example of the telecommunication industry, it was barely two years ago when the Energy, Water and Communications Ministry asked the third largest local telco player, DiGi, owned by Telenor, to cut their stake from 61% to 49% (source:
Telegeography.com
). Will there be a reverse in the policy? I hope not.
Globalisation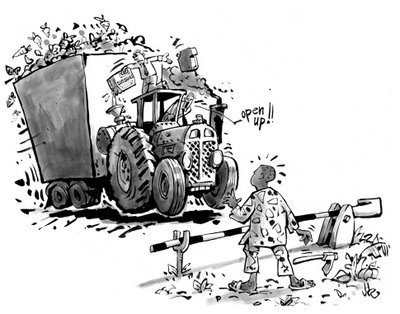 I am a firm believer of globalisation; only in the sense that if it cuts both ways. Not just from West to East, but also from East to West. Globalisation and modernisation must not equate Westernisation. I have asked this question once to my American graduate lecturer, and sadly the answer that I get is a dissapointing one. He holds a strong Americanism and a defeatist view and believes in the hypothetical claim that globalization and Westernisation - is alright.
In my view, if you want to be a true advocate of globalisation, free trade and other similar jargons, you must be prepared to accept the process holistically, and not take a hypocritical approach; which is what America is now - a strong proponent of liberal economy that goes around the world asking others to open up their market but at same time practicing protectionist and conservative economic policies at home whilst citing security reasons (note:
Kapitalism, free trade & globalisasi Barat
) to justify their un-liberal economic acts.
Back to Malaysia, I do hope that other key sectors of the economy, e.g. health, agriculture etc, will not fall into the objective of liberalisation. I hold a centrist and pragmatic view of economy, in that while I am all for free market, private ownership and all that, I also believe government have an important role to play in the market and must not and cannot allow important economic sectors to fall into foreign hands. There must been a clear line between attracting investments, increasing competitiveness AND selling the country.
I do hope my speculation and worry is wrong.