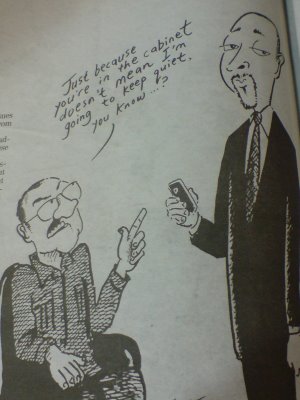 NST - Saturday, 11 April 2009
"Just because you're in the cabinet doesn't mean I'm going to keep quite, you know...?"
Tun Dr. M to son, Mukhriz.
Read between the lines. Hehe. Picture above is the latest cartoon by Lat in today's NST. Lat has never failed to disappoint me with his political cartoons long since I was in primary school.
If there is one reason why I still read the NST, it must be because of Lat's cartoons, besides Johan Jaafar and Lt. Gen. (Rtd) Zaini Said's weekly column. Other than that, NST has nothing much great to offer.