Perak circus: Anwar started the party-hopping ball rolling
The circus clown party in Perak is just getting more exciting that I can't afford not to blog about it and be part of history. A simple search on "Perak" on the blogosphere have so far resulted in an impressive 12728 results (via Blogpulse).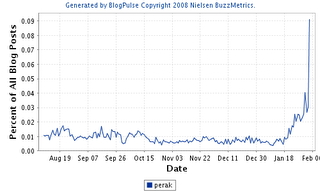 Below are two quotable quotes from 1) The Group Chief Editor of The Star, Wong Chun Wai and 2) a letter to The Star by Ahmad Hussein.
A Game that Anwar Ibrahim lost


"It was a high stakes game that Anwar Ibrahim started and he has ended up losing the Perak state government.



The PKR tried luring BN representatives to join the party and even set a Sept 16 deadline of forming the next federal government. It failed but many people believed it would take place. In the end, it was just a sham. Then the Pakatan Rakyat tried to woo BN men in Penang, Negri and last week, the Bota state assemblymen. The floodgates, so to speak, were opened.

A dangerous political game was played out and in the end, when the BN decided to come in, they walked away with a prized state.

"

-

Wong Chun Wai
---------------------------------------------------------------------------------
The Star: Anwar started the party-hopping ball rolling




IF there is anyone to be blamed for party defections, it should be PKR supremo Datuk Seri Anwar Ibrahim.



He was the one, in his obsession to take over as the Prime Minister, who encouraged party hopping and even set the Sept 16 deadline.

His followers, many of whom unfortunately have become slavish idol worshippers, have conveniently forgotten this.

He wooed and persuaded Barisan Nasional elected representatives, especially from Sabah and Sarawak, to defect. Please do not tell us that these targets of his were not promised positions of power. We were not born yesterday.

Then, he convinced the State Assemblyman for Bota in Perak to join PKR. Of course, it was all in the name of principles and serving the people.

If it were PKR, DAP or PAS-elected representatives, they would have been condemned and accused of selling out the people.

Are we to believe that PKR does not buy elected representatives, given the huge financial resources they have now?



It is strange that Anwar has not called for the Bota assemblyman Datuk Nasarudin Hashim to step down so that a fresh by-election can be held. What kind of double standards is this?



Anwar is said to have played a major role in over-throwing the PBS state government under Datuk Seri Joseph Pairin Kitingan. The undated resignation letters were found to be invalid and useless then.

Now, we are told by the Pakatan Rakyat leaders that these letters are valid. Come on, again, double talk.

Anwar has opened the flood gates, and if more PKR and DAP assemblymen from Perak quit, he deserves it because he started the game.

Remember, the PKR has also been trying to convince Negri Sembilan and Penang BN state assemblymen to join them. No wonder, they are not keen on any anti-hopping laws for the country.

AHMAD HUSSEIN,
Petaling Jaya.
Quoting
Hishamuddin Rais
in his speech at a
forum
recently, I say "
This is Realpolitik in action. Politic spelled with a
K".
While it is strongly speculated that the jump by the Pakatan Rakyat assemblymen; Jamaluddin Radzi, Osman Jailani was to be made few days before their corruption trial, I also wonder whether the timing of the clowns to jump ship to Barisan Nasional was pre-planned to coincide with Sultan Azlan Shah's silver jubilee?
Anyhow, I have strong faith in the Sultan's wisdom, justice and capabilities, that he will make a wise and good judgement in the best interest of the
rakyat
. It surely gonna be one tough 'neutral' decision to be made. But my conscience tells me that it's gonna be a state-wide fresh election, though.
In the mean time, keep your seat belt buckled up while waiting for the wise old Sultan to pass his judgement. Tomorrow's surely gonna be more exciting, I bet!
Related articles:
Bernama - Was PR Out-manoeuvred In Its Own Game?
Bernama - Will Sabah's 1994 Political History Be Repeated In Perak?