Dutch on course to the Cup final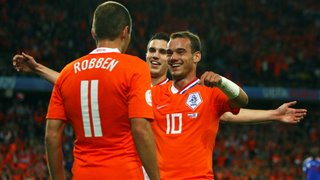 ..Goalscorers Arjen Robben, Robin van Persie and Wesley Sneijder celebrate (
©Getty Images
)
It is not that often that I blog about football, but today was something extraordinary. The Netherlands played one of the best game in Euro 2008 so far, trashing World Cup 2006 finalist, France 4-1. They started out pretty slow in the first half even though they control most of the game.
The Dutch only began to built up their momentum in the second half, when Arjen Robben and Robin van Persie was brought in. Their counter attack was simply superb. The fourth goal by Sneijder could be one of the best in the tournament. It was unbelievable how he rammed the ball into the net within such an acute angle. With this second win, The Netherlands booked a place in the quarterfinals.
It is interesting to see two World Cup finalist, Italy and France battle among themselves to book the second spot for the quarterfinals. But should Romania beat The Netherlands in their final group match, both Italy and France will be out. But I doubt it'll happen. My bet goes to Italy. France doesn't really look that strong enough now, if were to compare with the time when Zinedine Zidane was still around.
I hope to see Marco van Basten's boys go all the way to the final and win the European Cup. It would certainly be a memorable one for him, as the last time the Dutch won the Cup was 20 years ago in
1988
, which van Basten himself was the tournament's top goal scorer.
Viva Oranje!