[source:
peoplesgeography.com
]
Malaysia Condemns Israel's Air Strikes In Gaza



KUALA LUMPUR, Dec 28 (Bernama)

-- Malaysia strongly condemns the series of Israeli air strikes against the Palestinian neighbourhood of Khan Younis in Southern Gaza yesterday (Dec 27), which left at least 225 Palestinias dead and more than 400 wounded.

The Ministry of Foreign Affairs in a statement here today said Malaysia stands firm that there is no excuse for the disproportionate, indiscriminate and excessive use of force in Gaza and totally rejects the collective punishment imposed by Israel on the Palestinian people.

"The Israeli attack on Gaza completely disregards international law and is in violation of the United Nations Charter.

"Malaysia considers this act as a war crime and crime against humanity," the statement said.
It came as no surprise to hear the silence and not even a single condemnation from the world powers or even the UN, but it baffles me to see the deep silence and apathy from the Arab leaders. What the hell are they doing when hundreds of their fellow Arab brethren were killed in a series of airstrikes by the Zionist regime of Israel in Gaza.
I wonder when will this come to an end. The world is made to look as if Israel were attacking on the pretext of self defense while claiming the poor and hapless Palestinians as terrorist, where in fact they're the one who are the real terrorist, occupying Gaza and West Bank, denying Palestinians the most basic human rights and other sorts of atrocities against the Palestinians.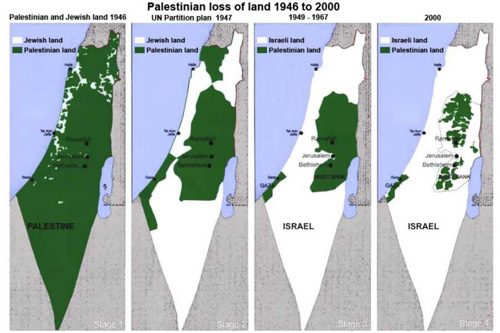 Palestinian and Jewish (Israel, from 1948 onwards) land from 1946 - 2000
People of the world should be aware that part of the problem in the Middle East lies to the continuing illegal occupation of Palestinian land since the embarrassing defeat of Arab forces (Jordan, Egypt and Syria) to Israel in the Six Day War in 1967, which caused the annexation of Palestinian lands into Israel. To revert back to the 1948 map would be totally impossible in the present state of international politics, but many moderate Arab leaders have agreed in the past that what they're asking is only a fraction of the original Palestinian land; that is the Palestinian map pre-1967 war. And that too was denied by the Zionist regime. Together with its strongest ally, the US, they had on numerous account ignored all UN resolutions and veto-ed any strong action proposed against Israel.
As long as the Arab leaders are more concern on their own interests and as long as there is no real unity in the Muslim ummah, the prospect of having an independent Palestinian state comprising of Gaza and the West Bank with East Jerusalem as the capital and better future for the Palestinians, looks bleak.
Related article:
Israel's Shock and Awe Planned Six Months
Salam Ma'al Hijrah 1430.